Product Scarcity & Cost Increase
Raw material shortage is a fact these days. For every seafood & fish product group originating from Asia. The lack of raw material is being caused by the impact that COVID is still having on the industry; a smaller workforce and thus less availability in raw material, as well as a production delay since lots of producers are currently producing pending orders from "pre- COVID-times" whilst still suffering from COVID. Having these facts in mind, plus knowing that most suppliers are fully booked with orders until New Year and most of them even until after Chinese New Year (all origins), it is needless to say that already securing product for 2022 is recommendable, especially since the tendence is that cost increase continues to go on (except for freight; these costs seem to be stabilizing). That being said, rising costs is another complexity; especially when they appear after contracts have been closed. "How" these higher costs evolve? Below image points it out (please click on the image to enlarge it).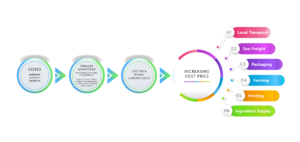 Pangasius as an example
As earlier indicated, COVID is having multiple consequences. Another one is calibration. For instance pangasius is mainly available in bigger sizes, now and in the nearby future. Why?
Due to the lockdowns, the strict regulations and accompanying "challenges", farmers have had and still have less capacity. We all understand that less capacity means less employees to get the fish out of the ponds on time. Furthermore, another harvest cycle needs of course time until it reaches the "European size". Unnecessary to mention that scarcity results in price increase.
Next Newsletter
More information about Luna Seafoods
Welcoming a new colleague in our Bangladesh Office